RICHFOOD CATERING CHRISTMAS FESTIVE PROMO!
Experience a festive and delicious Christmas buffet starting from just $18.80. Enjoy classic favourites and new creative dishes.

Early Bird Promo 8% OFF
"FESTIVE8"
Use coupon code above to enjoy 8% off for your Christmas meal. *Promotion valid until 30th November 2023
Learn More
AT THE HEART OF ALL GREAT PARTIES WITH RICHFOOD CATERING SERVICE
At RichFood Catering, we understand that the success of any party big or small, is almost always about the food. Because long after the lights come on and the décor gets taken down, what people remember most is the food they ate. Simple or elaborate, dishes served to your guests can make a memorable occasion, well, even more memorable. So plan an unforgettable feast with us, your leading catering service in Singapore. After all, we are the ones Singapore trusts to make every milestone celebration a delicious success.
OUR CHEF'S PICK WEEKLY SURPRISE MENU
VALUE BUFFET A
Introducing the irresistible Value Buffet A package - 8 courses + 1 dessert for 60+ people at just $11 ($11.88 with GST) per person. Customise your feast with rice, noodles, chicken, pork/fish, veggie/bean curd, deep-fried items, pastry/dim sum, and beverages. Treat your taste buds to an unforgettable culinary adventure that won't break the bank. Impeccable service and a memorable experience are guaranteed. Book now and savor the extraordinary at a limited-time offer!
WE GET INVITED
ALL YEAR ROUND
Birthdays or weddings, festive occasions or company functions, RichFood Catering is invited to some of the best parties all year round. It is a privilege we don't take for granted; celebrating someone's special day is akin to taking special care of a cherished family member. We should know better, for this is what we have been doing best for years, as a family that cooks with plenty of heart for other families through our catering service.
Here's why we top the list of
preferred caterers
OUR RICH TRADITION OF EXCELLENCE
We come from a local family of renowned caterers, cooking for others with as much passion as we would for ourselves. Since 2009, our parent company RichFood Group has paved the way for our sister companies NouRiche, Tingkat Delivery and Rejuven to become Singapore's leading specialist caterers.
RichFood Catering is no exception to this familial trajectory of culinary success. It is a track record, a shared DNA for excellence that empowers us to set the benchmark for catering services, celebrations and events. In fact, the gold standard is what you would expect of any RichFood Group caterer to bring to your table.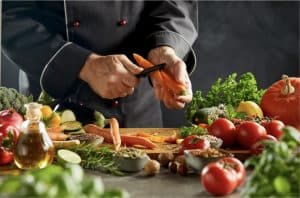 LOCAL, REGIONAL OR
INTERNATIONAL,
OUR REFRESHING VARIETY
Our ISO-certified kitchen team, helmed by experienced chefs,
ensure top quality standards for every catering need. Menus
are frequently refreshed, with innovative takes on our
extensive repertoire of local, regional and international
dishes. Whether you are planning a buffet dinner for 20 or
200, rest assured every RichFood Catering menu plan
features our signature standout dishes and perennial crowd
pleasers. Expect a consistent standard catering service with culinary excellence when you order Bento Boxes and Packed Meals for working lunches and team events.
Amanda Lau Swee Lin
2023-07-24
Pastor Terence engaged Rich Food for Zoe's one year old birthday . The food was tasty and delivered on time The service rendered by Hayden and the team from Rich Food was top notch. Will definitely recommend their service
Jordan "0verlord"
2023-06-02
Food is fantastic. The delivery and set up is efficient. The staff that set this up is very accommodating to our demands. The grill salmon ordered is fresh and no odd smell. The only small problem is that there isn't much longan in the longan chinchow. Other than that, no complains. Guests are raving about the food.
It is not the initial time that I had place an order with RichFood Catering. Their service are efficient, and swift. Delivery personnel was also very professional, polite and amicable whilst delivering my order. Thank you so much RichFood Catering. Oh, and so just to enumerate, I've ald placed another order for a bigger occasion! 😀
Have been a long time Tingkat customer with RichFood during COVID period as their food was delicious, generous & no MSG. So when Singapore finally open up, decided to try out RichFood catering for my daughter 1st birthday. Hayden was kind and accommodating while I have make a few changes to the confirmed pax till last few day before the event date. Price was definitely economical & super affordable as compared to market prestige caterers without compromising on food quantity & quality. Free Delivery & setup once you hit the minimum amount, so no hidden or ++ charges at all. Delivery came on-time & table setup took about 30min. Food portions was again generous for 50 pax (Not include children) Majority of my guest are family with kids and both the adults & kids love the Braised Beancurd w/ crab stick. Teriyaki Grilled Chicken was also another hit as the meat is soft and tender. Crispy Cereal fish was warm and crispy on the outside, soft and tender meat on the inside. Its a pity that I didn't take picture of the food and the setup due to busy handling kids and talking to guests. Will do so for the next event. Highly recommended to try RichFood Cathering. Will definitely engage Hayden and team again for the next event. Please keep up the good work in preparing the awesomely delicious & healthier food. Kudos to Hayden and RichFood Team
My family and I really enjoyed the food and will definitely order again next time when we have our gathering!
Great food!
I engaged RichFood to cater some bento meals for a retreat and customer service was really good - Hayden went the extra mile to get a separate packet of food outside for me as one of my friends couldn't take soy sauce. Food was really affordable as well. Thanks Hayden!
It is super affordable and the delivery is fast as well. Totally recommend!
Great food and the delivery is quite fast as well. Its kinda rare to get a home cook meals and taste especially when you're staying over Singapore. Their packed meal is super affordable as well. Totally recommend!
Other Brands of RichFood Group
A recent article in The Straits Times highlighted how RichFood
Read More »
As you embark on the journey of planning your special
Read More »
If you're looking for some budget buffet catering that is
Read More »
Product launches, corporate get-togethers, bento boxes for boardroom meetings or packed food for staff meals, we will customise mouth-watering solutions to your satisfaction. Send us a message here, and we will plan a successful event together with you.