How to Cater for School Events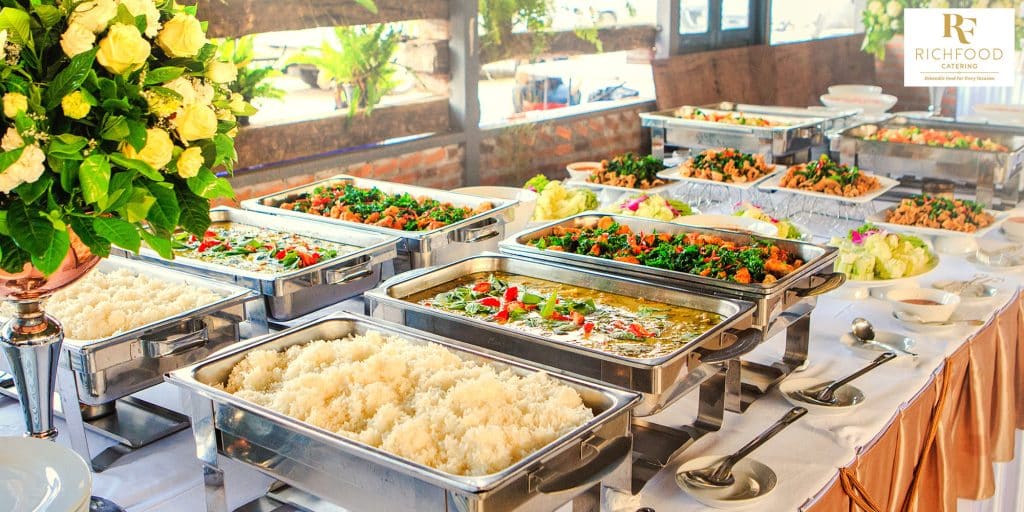 School events are an integral part of the educational experience, providing students with memorable moments and opportunities for celebration. From graduations and fundraisers to sports events and celebrations, these occasions require careful planning to ensure their success. One essential aspect to consider when organizing school events is catering. In this guide, we will explore the various aspects of catering for school events, including determining catering needs, creating a budget, selecting a caterer, menu selection, and logistics and planning.
CATERING FOR SCHOOL EVENTS – DETERMINING CATERING NEEDS
The first step in catering for school events is understanding the specific needs of each occasion. Different events may require different types of catering, such as sit-down meals, buffet-style setups, or finger foods. Understanding the type of event will help determine the appropriate catering style.
Furthermore, it is essential to consider the number of guests expected to attend each event and any dietary restrictions they may have. Graduations, for example, often have a large number of attendees, requiring a comprehensive catering plan. On the other hand, fundraisers or sports events might have a smaller guest list but could still require careful attention to dietary needs, including vegetarian, vegan, or gluten-free options.

CREATING A BUDGET
One important aspect of catering for school events is creating a budget. It is crucial to consider the cost of catering and ensure that it aligns with the available funds. Several factors can affect the cost of catering, including the type of food, the number of guests, the level of service required, and the chosen caterer's reputation. By understanding these factors, you can establish a realistic budget that meets your school's financial capacity.
To create a budget for catering, start by determining the amount of money allocated for food and beverages. Consider any additional expenses, such as rentals for tables, chairs, or linens. Research the average cost of catering services in your area and compare quotes from different vendors. This will help you negotiate prices and make informed decisions.
SELECTING SUITABLE A CATERER 
Selecting the right caterer for school events is crucial to ensure quality food and a seamless experience. Begin by identifying potential catering services that specialize in school occasions or event catering. Seek recommendations from other schools or organizations that have previously worked with caterers.
When selecting a caterer, consider factors such as their experience, reputation, and menu options. Request samples to taste the quality of their food and inquire about their ability to accommodate dietary restrictions. Communication is key during this process, so ensure the caterer is responsive and reliable.

TIPS FOR MENU SELECTION
Choosing the right menu items for school events is vital to satisfy a diverse range of tastes and dietary restrictions. Start by brainstorming ideas that align with the theme or purpose of the event. Consider popular favorites among students and staff, as well as healthier options to promote balanced choices.
Ensure that the menu accommodates dietary restrictions and allergies by offering vegetarian, vegan, gluten-free, and nut-free options. Providing a variety of choices will ensure that all attendees can enjoy the event without any concerns. Collaborate with the chosen caterer to create a well-rounded menu that satisfies different preferences and dietary needs.
LOGISTICS AND PLANNING
Executing a successful catering setup for school events requires careful logistics and planning. Begin by determining the location and layout of the catering area. Coordinate with the venue or school staff to ensure adequate space for food service and dining. Consider factors such as food safety, sanitation, and flow of guests.
Collaboration with the caterer and the school's staff is crucial to ensure a smooth experience. Communicate clearly regarding logistics, timelines, and expectations. Provide the caterer with necessary details such as setup and breakdown time, as well as any specific requirements for the event. Regular communication and on-site visits can help address any potential issues beforehand.
CONCLUSION
Catering for school events is a crucial component of creating memorable experiences for students, staff, and attendees. By determining catering needs, creating a budget, selecting the right caterer, choosing appropriate menu items, and planning logistics effectively, you can ensure a successful catering experience at every school event. Remember to prioritize communication, flexibility, and inclusivity to provide a delightful dining experience for all. Through proper planning and attention to detail, your school events will be elevated to the next level, leaving a lasting impression on everyone involved.
If you're looking for a local caterer, you can contact us for free to understand our catering and service fulfilment. By the way, our catering service covers most areas in Singapore. You can reach us via 6980 8207 or WhatsApp at 8157 8780 and make your booking today!
Frequently Asked Questions (FAQs) about Event Catering: